Did you know that property managers and landlords in Florida are now required to run criminal background screens? Had you heard about Colorado's new Clean Slate Act and its implications for employers?

These are just two issues that emerged in Asurint's most recent Keeping Up With Compliance webinar.
Hosted by Asurint General Counsel Kelly Uebel, Keeping Up With Compliance packs an incredible amount of information into less than 60 minutes.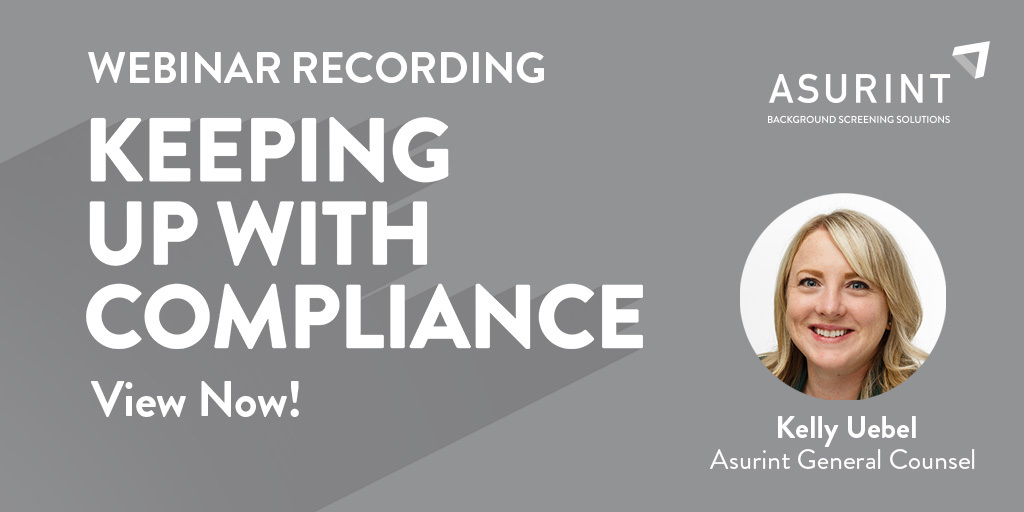 As part of her role with Asurint and with the Professional Background Screening Association, where she serves as Past Chair, Kelly continually monitors legislative and regulatory happenings along with litigation developments, all at the federal, state, and local levels. She uncovers trends and discusses the impacts on employers and their background screening programs.

How does a court ruling in California affect your ability to access court records in a timely manner? Could state legislation soon help eliminate the frustrating backlog? How does the ever-shifting marijuana landscape impact drug testing practices?

These are important questions, and they represent the tip of the proverbial iceberg covered in our webinar.
As usual, Kelly focuses her presentation on the year's biggest employment law news. Whether you are hiring talent in one jurisdiction or in dozens, whether you are recruiting full-time, part-time, contractors or volunteers, Keeping Up With Compliance includes the details you need to begin an evaluation of your policies and procedures.

Please note that the webinar, like other compliance resources compiled by Asurint, is intended for educational purposes and does not constitute legal advice. Once you review the content, it's recommended that you schedule time with your counsel to discuss appropriate response to any issues of concern.

The important thing is to raise your own awareness now, so that you can plan accordingly. Stream Keeping Up With Compliance here.