Background checks
have become standard operating procedure. According to a
survey
by the National Association of Professional Background Screeners (NAPBS), the vast majority of companies—95 percent—conduct some type of background check related to employment, and 85 percent say they screen all full-time employees.
Widespread adoption of background checks is a positive development. When a task makes the mandatory checklist, however, we sometimes forget the true purpose. Day to day, that's not a problem. But losing sight of the "why" can mean doing things the same old way—and this is a lost opportunity. Background checks have come a long way in recent years, and better technology and more records and information can deliver more value than many HR professionals realize.
1. Protection Against Risk
On the topic of background checks, risk management comes up frequently. In the NAPBS survey mentioned above, 86% of respondents said they run background checks to protect employees, customers, and others. About one-third also cited an interest in reducing theft and other criminal activity.
When using background checks for protective purposes, it's essential to pull all relevant records. That's why Asurint's systems identify a candidate's unreported address history, which can broaden a search to additional jurisdictions. It's why we tap our proprietary
National Criminal Information Bureau
(NCIB) database and its voluminous records from county, state, and federal courts. And it's why we have unique partnerships with county courts and state agencies covering more than 90% of the U.S. population.
With these resources, we are more likely than other providers to find the records most important to a potential employer.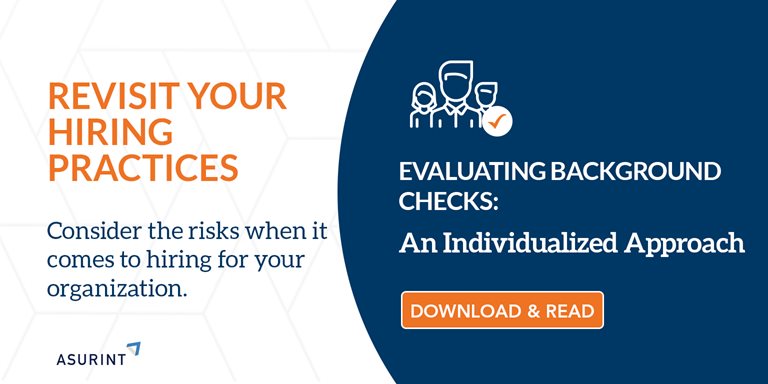 2. Background Checks Are Also About Quality
For some organizations, screening out potential bad candidates is the only goal, but background checks can do more. In fact, over half of respondents in the NAPBS survey say they use background checks to improve the quality of their hires.
Most organizations recognize that their employees are the most important factor, whether they're striving for a bestselling kitchen product or an efficient charity program. By helping to identify the best people, background checks make a strategic contribution to an organization's core goals.
Not only is the quality of the report crucial, but in today's tight job market, it's essential to snatch up a great candidate before a competitor can make an offer. Better, faster background checks, like those available from Asurint, supply an important advantage in the fight for talent.
3. Reducing Cost While Supporting Growth
Background checks can protect the organization and increase the quality of new hires. Better background checks can help do all of this without burdening the HR professionals tasked with performing them.
How, you might ask? One way is by integrating with the organization's recruiting software.
This feature alone ensures a seamless process, one where steps are automated and easy to complete, which reduces HR costs. Plus, it makes a better impression on candidates, because there are fewer forms to deal with, they aren't being asked for the same information over and over, and the results come back quickly. The organization appears savvy and efficient, which can help get to "yes" with prospective employees, maximizing recruiting success and supporting growth.
Fortunately, it's not necessary to change your recruiting software to access the best available background search capabilities, because
Asurint technology pairs with most products on the market
. You can stick with a familiar system and add swift, powerful, sure background screenings at the click of a mouse.
If you're concerned that your background checks are only "checking boxes" rather than contributing full value to the organization, why not
contact us to learn more
about what Asurint's background screening can do?