In July 2018, a jury awarded $101 million in a
negligent hiring
case brought by an individual injured in an accident with a large truck. The company's hiring process failures contributed to this record-level civil award, which has the entire industry on high alert.
Trucking companies
, railroads, airlines, and other members of the transportation sector bear immense responsibility to protect the people and property coming into contact with their operations. All employers in the industry must have effective policies in place for screening out potentially dangerous or incompetent drivers and other workers, whose actions could increase the likelihood of accident and/or injury, not to mention corporate liability for any incident.
A successful negligent hiring claim against an employer—which finds the company knew or should have known an employee was unfit or posed a threat in his/her job—can result in a steep financial penalty. It can also harm the organization's brand image, public trust, and client relationships.
In other words,
a negligent hiring claim can put an employer on the road to bankruptcy
, so it's important to know how to mitigate the risk. Fortunately, the right
background checks
can help.
Key Elements of a Transportation Industry Background Check
Our recent whitepaper,
Rig-orous Background Checks
, explores negligent hiring cases and the role background checks play in reducing liability. By obtaining—and acting on—comprehensive histories on potential and existing workers, companies can help avoid employing individuals who pose a safety threat, as well as ensure their human resources practices will pass muster in case of a lawsuit.
Following are some elements of a high-quality background check that transportation industry employers will find most helpful in order to mitigate your risk. You can also read up on more searches to consider in the full whitepaper:
Drug Testing
Various regulatory bodies, such as the Federal Aviation Administration, have specific
drug testing
requirements, which must be followed to the proverbial T. In today's environment, however, a full-panel drug test is a smart investment for most
transportation-related candidate screenings
.
Motor Vehicle Records
Driving records can show up to seven years of activity, depending on the state. License suspensions, accidents, and other driving offenses provide crucial information about a candidate's tendency toward unsafe behaviors behind the wheel.
Criminal History
In addition to surfacing DUI/DWI convictions, a criminal history can identify other events with a bearing on transportation jobs. Logistics providers involved in delivering high-value products, for example, may want to be aware of prior theft convictions.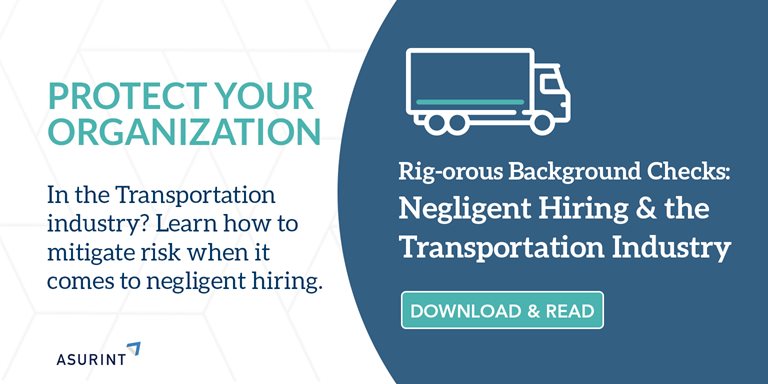 Finally, Take the Results Seriously
Among the issues contributing to the $101 million court award mentioned above was the company's failure to follow its own internal processes. This case goes to show that adding a background check to the HR department's hiring checklist isn't sufficient protection. Ordering the background check and putting it on file won't be enough, either. To function as the due diligence that courts—and the court of public opinion—will expect from an organization targeted in a negligent hiring claim, employers must carefully review and
assess the background check results on an individualized basis
.
The right background checks combined with the right evaluation process can help drive success in the transportation industry. If you are interested in upgrading your candidate and employee screenings,
contact us
for more information. And always be sure to consult with legal counsel to make sure you're steering your HR decisions according to the law.