Does background report adjudication drive you nuts? Are you bogged down or even confused by the adverse action process? Will delays along the way cost you great talent or distract the recruitment team from key success drivers?
To the staffing industry, we can only say…
we feel your pain!
Asurint serves many top global staffing companies. Over years of designing, testing, and refining our specialized screening technologies and services, we've developed a deep understanding of the hurdles staffing firms and recruiters face throughout the candidate screening and notification process.
Without a doubt, two issues take top billing:
Sifting through endless piles of background reports and adjudicating each candidate's results according to the right matrix for the position is an eye-crossing burden.
Ensuring all aspects of the pre-adverse and adverse action process are completed in compliance with Fair Credit Reporting Act requirements continues to be very stressful.
Fortunately, automation is coming to the rescue. Yes, it's possible to bring fully compliant, customizable technology to bear on your staffing pain points. And Asurint's Beth Dowdell will be explaining how in a webinar entitled Adverse Action & Adjudication: How to Automate Staffing's Biggest Headaches.

The event will take place on Wednesday, February 26 at 12:00 PM. Sign up for the webinar to participate.

Adverse Action & Adjudication: How to Automate Staffing's Biggest Headaches will be a high-level, solutions-focused presentation. Beth will discuss:
FCRA impacts on the staffing industry
The adverse action process
Candidate adjudication considerations
The steps you can take NOW to automate both adverse action and adjudication
There are still spots available to join the event live, so you can take part in the discussion and have your questions addressed. This one-time webinar presentation could provide resolution to your greatest screening-related challenges, so don't miss out.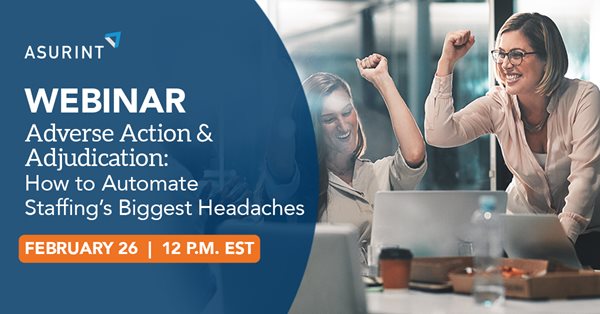 FCRA-related lawsuits have increased over the past decade, which is putting pressure on staffing firms to reexamine and upgrade their adjudication and adverse action processes. An understanding of the current regulatory climate and knowledge of proven management systems are essential to reducing compliance risk
We all know that a long-term solution is far better than another bottle of ibuprofen on your desk. To access permanent "pain point relief," join us for
Adverse Action & Adjudication: How to Automate Staffing's Biggest Headaches
on Wednesday at noon.