Grand Rapids, Michigan quietly closed the end of 2019 with an
expansive human rights ordinance
impacting employers (and property managers). The law took effect December 1, 2019 and applies to employers in the city with one (1) or more employees.
The Human Rights Ordinance (HRO) protects individuals from discrimination on the basis of actual or perceived color, race, religion or creed, sex, gender identity or expression, sexual orientation, national origin, genotype, age, marital status, familial status, medical condition, disability, height, weight or source of lawful income. Employers may not discriminate against a current or prospective employee with respect to hire, tenure, terms, conditions or privileges of employment, or any matter directly or indirectly related to employment, unless such act is based on a bona fide occupational qualification.
Tucked into the section on employment discrimination is a provision addressing conviction records. "Conviction record" is defined under the HRO as the "history of all criminal convictions of an individual in any jurisdiction, including time served in prison, jail, juvenile detention, probation, rehabilitation or diversionary programs, or
placement on a sex offender registry
." (Emphasis added).
Under the HRO, employers may not have an "outright ban" on prospective employees with a criminal conviction and may also not consider arrest-only information. Employers can consider conviction records on a case-by-case basis taking into account factors such as: (i) the nature and severity of the crime, (ii) the age of the individual at the time of the crime, (iii) repeat offenses, (iv) employment history maintained before or after the conviction, (v) evidence of rehabilitation efforts and (vi) if the conviction record poses a demonstrable risk to the health, safety or welfare of persons or property.
Employers are also prohibited from adopting, enforcing or employment any policy or requirement (including distributing any job advertisement) that discriminates against or suggests discrimination against an individual based on a protected class. Retaliation against individuals seeking to enforce the law is also prohibited.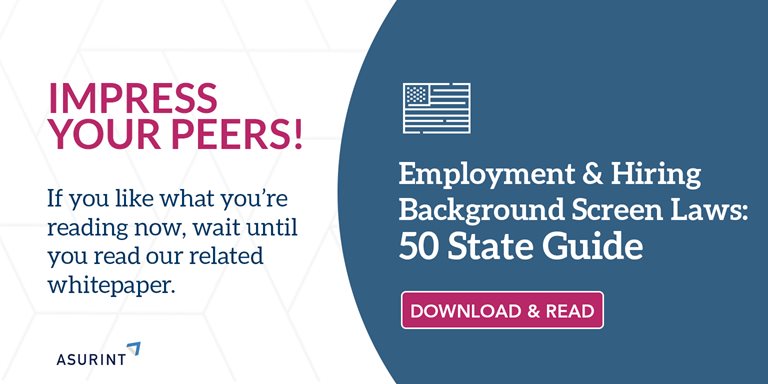 Further, the HRO provides that "[n]o person shall conspire with, assist, coerce or request another person to discriminate in any manner prohibited by this Ordinance." Staffing companies and other organizations that apply client-driven hiring parameters should pay particular attention to this provision of the HRO.
From an enforcement perspective, individuals may file complaints with the Office of Diversity and Inclusion or bring a private cause of action.
Employers may recall that Michigan state enacted a law effective in July 2018 that bans cities and counties from passing ban the box ordinances impacting private sector employers. According to an
article published by Seyfarth Shaw
, it appears the city evaded the constraints of this state law by embedding the conviction record provision within a broader ordinance on discrimination.
Employers should act immediately to review the HRO and determine what changes, if any, to its employment policies are required.