It's never been more complicated to maintain a Drug-Free Workplace or respond to an accident when substance abuse is suspected. Drug testing remains an essential tool for countless employers, but it can be difficult to establish a program to meet an organization's goals in an affordable manner and one compliant with emerging legal standards.
Asurint helps guide clients toward best-fit drug testing solutions for a variety of needs. And this month, we're going a step further with a free drug testing webinar.
Getting the Most Out of Drug Testing
will take place on March 26
th
at 12 PM.
You can sign up here to participate
.
We've invited a prominent guest presenter to lead this event. Bill Current is a 30-year veteran of the drug testing industry and offers the background and knowledge to address such questions as:
Why have a drug testing program? What are the benefits?
Under what circumstances can and should employers drug test employees?
What laws affect workplace drug testing, and how are they changing?
What drug testing methods are available? Which ones may be right for your workplace?
How can you measure the real costs and ROI of a drug testing program?
Don't miss this chance to hear from one of the nation's leading experts on substance abuse testing. Bill has directed both the American Council for Drug Education and the Institute for a Drug-Free Workplace. He helps conduct the annual Drug Testing Industry Survey, now in its 22
nd
year, and has written 10 books on drug testing. Today, he serves as President of the Current Consulting Group, which he founded to help employers optimize their substance abuse screening programs.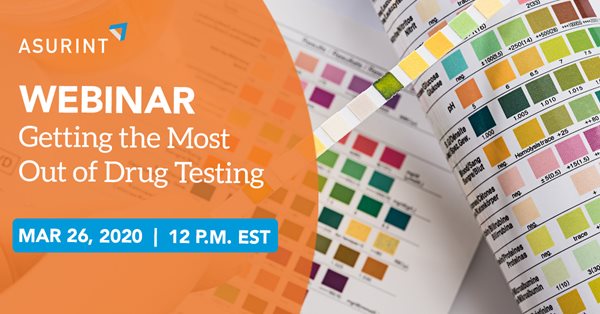 There isn't a better guide to the many drug testing-related considerations employers must take into account—from balancing cost and benefits to staying on the right side of regulations and shifting societal attitudes.
If you have questions about setting up or refining a drug testing program for your workplace, Bill can provide answers and point you to the right resources for further information.
Sign up here
to join us on March 26
th
at noon, so you can take part in the discussion and Q&A.
And be sure to check back with our blog.
Getting the Most Out of Drug Testing
is part of the larger commitment Asurint has made to helping human resources professionals and staffing leaders navigate the rapidly changing environment around drug testing. We will be posting more information all month!